I believe in coaching the person rather than a set method. We are all built differently so we must be coached differently to unlock potential as individuals. Strong basic fundamentals provide the platform for golfers to play successfully with their own swing movements. I help players to build the foundations that improve their swing and improve their golf.
Dave Thompson (Head P.G.A.Professional at Woolton GC)
Why Coaching?
I'm passionate about helping golfers to get the best out of their game. there are many skills required to get that ball in the hole. Driving, fairway shots, pitching, chipping, bunker shots, putting, decision making, confidence building and mental resilience all play their part in the round. At Woolton GC I offer a wide range of coaching services to suit the needs of all golfers. Whether it's video analysis and Trackman technology, long game, distance control, short game, putting or course management, I can offer a coaching package to suit your needs and help you to lower your scores. Individual lessons, lesson courses, 8 hole playing lessons or full day golf clinics all form part of the tuition service. Book a lesson today and start your journey to better golf.
Lessons will cover:
Golf Fundamentals
Swing Basics
Short Game
Long Game
Course Management
Putting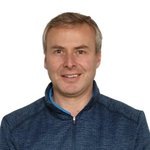 Dave Thompson - Club Pro
Dave Thompson joined Woolton as club professional in 2000, having spent many years under the guidance of his father, E.G.U national team and European Tour coach Alan Thompson. This wealth of teaching experience has been passed on to Dave, who himself is now building an excellent reputation for his coaching techniques. He believes in concentrating on the needs of each individual rather than following set methods. The indoor swing studio is one of the best in the North West, and provides a fantastic environment to learn the game or enjoy indoor golf with friends. The TRACKMAN Launch Monitor provides instant feedback on every shot and whether you're looking to find a new club to suit your game, correct a swing problem, learn your accurate yardages or find the best ball for you, TRACKMAN does this and much more. Try it in simulator mode and choose to play a world class golf course of choice in the warmth of the studio. Dave also runs a well stocked pro shop and, being part of Foremost Alliance, the country's largest buying group, enables him to compete with internet prices to ensure the best deals.
---
Dave talks about the complex movements of a golf swing in a language that makes it so simple to understand. I used to slice but we've cured that, and now I'm working to strengthen my impact position to hit the ball more consistently. I can see my game moving forward all the time and play with more confidence each time I go out. I can recommend Dave to anyone who wants to take achievable steps to better golf.
Leigh Roberts - Visitor